Part II - Bear Referendum
Chapter 9 - The Horse and the Swan
From the field journal of Anthony Marr:
June 11, 1996, Tuesday
[23:36 @ Mary and George West's place on Cortes Island]
Dearest Christopher:
How are you this morning? I'm thinking about you.
As for me, Erica and I had a discussion, and agreed that she will stay at Annette and Scott's for the next two days, mostly doing phone work, while I visit Quadra and Cortes Islands today, and Port Hardy tomorrow, on my own. Most of where I'd be going will be out of cell phone range. There is no point in having her sit in the passenger seat of my car for hours on end.
Day after tomorrow, I offered her the option of going with me to Port Alberni, or staying on at Scott and Annette's. I would prefer that she stayed at the Tanner's, so I don't have to worry about her safety as well as my own, but on this point she was adamant. She is going to Port Alberni with me, end of discussion. I respect her for it.
With the passenger seat empty, I feel a little lonely, but immensely free. I can meditate, crank up my car stereo, open my heart to the Universe, commune with Raminothna. My own version of the "unbearable lightness of being"?
I didn't even mind not making the 10:30 ferry from Campbell River due to "dangerous cargo" sailings every Tuesday. The 11:30 ferry got me to Quadra Island with time to spare.
In the early afternoon, I had a very pleasant nature-hike with Noel Lax and Tanya Store, the latter a young reporter who interviewed me on video during the hike for the next issue of the Quadra paper.
In the late afternoon I took another ferry and landed on Cortes Island in time for dinner at the wooded estate of Shivon Robinsong and Bill Weaver, whose wood-and-glass house was another one-of-a-kind. They are video documentary producers. It so happened that Diane Hardouin visited them yesterday, and talked about making a bear protection video, featuring this campaign, to be shown in Canada-3000 airliners during flight, asking the passengers to donate their pocket change to Western Canada Wilderness Committee towards the campaign. Diane's daughter Jennifer Jones died recently in a car crash at Whistler. Jennifer was a great lover of bears. In memory of her, Diane started a Jennifer Jones Foundation to raise funds for bear protection. Bill did an impromptu video shoot of me sitting on his sundeck, with big trees in the background, followed by another interview by Shivon, who used the term "whirlwind" to describe the tour.
The presentation at Cortes was gratifying, not in number, but in warmth of reception and feedback. Each and every one of the dozen or so people there signed up as volunteers. My hosts of the night are Mary and George West, a handsome middle-aged couple. My abode of the night – yet another one-of-a-kind log house, in a deeply forested setting.
Return visit invited by all, as the two Susans did, and for the same reason.
While driving, I have plenty of time to think. When I take a few steps back from my present predicament, I could not help but be philosophical about it. Just a year ago, could I have prepared for what I would become? No. I could not have even imagined it - for anyone, much less myself. It is almost outlandish that I'm doing what I'm doing, if viewed from, say, the place of my previous employment, much less way back in the late 60s when I was a UBC student. Even now, though I'm the "leader" of this campaign, I don't feel that I'm the leader even of myself. I'm not even talking about Raminothna, but of fate. Only fate could have led me to Cortes Island today, Port Hardy tomorrow, and, Port Alberni the day after. And yet, there was the reality, or is it an illusion, of me exercising my free will every step of the way. Do I have a chance not to be what I am? If fate wills it, not a chance.
But what is fate? Is the future, my future, prewritten millions of years ago in the stars? Or is it just a string of blind chances based on probability, and my free will is to just navigate through the unknown in which it has placed me in the first place?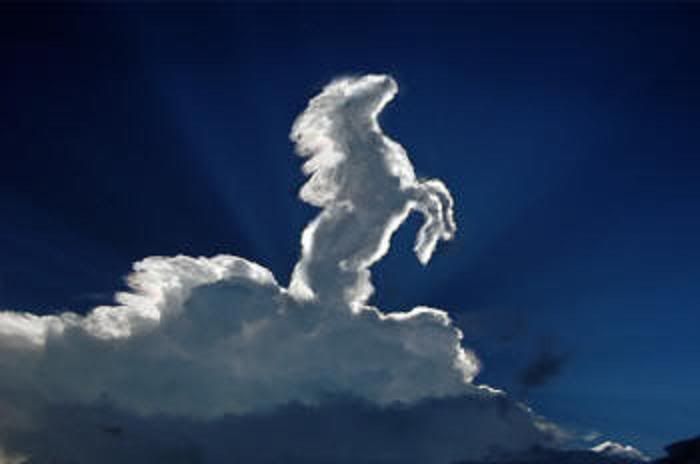 While on the ferry, I saw a horse in the sky, a magnificent cumulus cloud apparently leaping from the western horizon towards the east. Barring its way is a mountain range.
"Is this horse going to clear this jump?" the equestrian within me aimlessly wondered. At the same time, I judged that it couldn't. It was going smash itself to bits against the mountain cliffs.
"There," said Raminothna. Miraculously, the cloud morphed into a swan, which simply flew over the peak with a mile to spare.
"Whatever fate would have you be," she said, "leap as high as you can, and failing that, do even better and take flight. One thing for sure. Who is to say which is the more magnificent, the horse or the swan? Just be as magnificent as you can be."
And then, Greg McDade's words come back to remind me. I am on A MAGNIFICENT QUEST.
Good night, Christopher.
-------------------------------------------------
Raminothna
The Fortunate and The Called Upon
at your service
==================================================
Anthony Marr, Founder and President
Heal Our Planet Earth (HOPE)
Global Anti-Hunting Coalition (GAHC)
Anthony-Marr@HOPE-CARE.org
www.HOPE-CARE.org
www.facebook.com/Anthony.Marr.001
www.facebook.com/Global_Anti-Hunting_Coalition
www.myspace.com/AnthonyMarr
www.youtube.com/AnthonyMarr
www.HomoSapiensSaveYourEarth.blogspot.com
www.myspace.com/Anti-Hunting_Coalition
www.ARConference.org